Outdoor water fountains offer a great way to spruce up your yard without breaking your budget. You can even make it a focal point of your garden. It is also a great way to add value to your home.
These fountains can be really beautiful when properly installed. Here are a few reasons why you should use an outdoor water fountain.
Why Is An Outdoor Water Fountain Beneficial To Your Yard?
5 Common Types of Outdoor Water Fountains
How To Care For Outdoor Fountains
Why Are Outdoor Water Fountains Beneficial To Your Yard?
Outdoor water fountains can be a great addition to any home or garden. They provide a relaxing and serene atmosphere, and can also be a great way to attract wildlife. Here are some of the benefits of outdoor water fountains:
Relaxing and Serene Atmosphere
Outdoor water fountains provide a calming and relaxing atmosphere. The sound of the water can help to drown out any noise from the outside world, making it the perfect place to relax and unwind. Obtain this benefit by contacting your reputable Georgia landscaping company.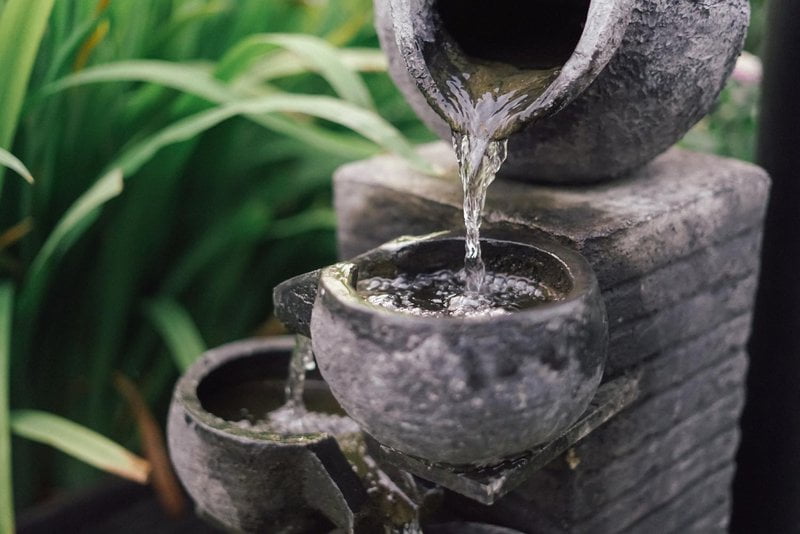 Attract Wildlife
Outdoor water fountains can be a great way to attract wildlife to your garden. Birds, butterflies, and other animals are attracted to the water and can provide a great source of entertainment.
Improve Curb Appeal
An outdoor water fountain can be a great way to improve the curb appeal of your home. They add a touch of elegance and can make your garden look more inviting.
5 Common Types of Outdoor Water Fountains
Outdoor water fountains are beautiful additions to any yard or garden. They come in many varieties and styles. Regardless of which you choose or prefer, each type of fountain has a different impact on the space it is in. Take a look at these types of outdoor water fountains.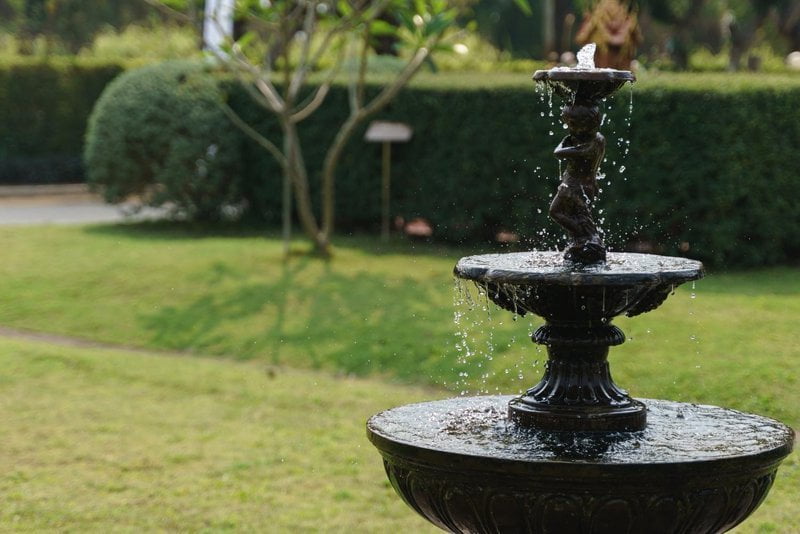 1. Tiered Fountain
A tiered water fountain is a great addition to any outdoor space. The multiple tiers of water provide a variety of ways to enjoy the fountain, while the ambient sound of flowing water creates a soothing atmosphere.
Depending on your specific needs, a tiered water fountain can be configured in many different ways to meet your specific needs.
2. Disappearing Water Fountain
One common type of outdoor water fountain is the disappearing water fountain. These fountains use a hidden reservoir to store water, and then release it slowly through a series of sprays or jets.
A disappearing fountain is perfect for areas that get a lot of rainfall or snowfall, as it creates an interesting landscape feature without requiring any maintenance.
3. Japanese Fountain
While there are many types of fountains, the Japanese water fountain is perhaps the most recognizable. This type of fountain is often used in gardens or public spaces to add a touch of elegance.
Typically, Japanese fountains are made from stone or ceramic and feature a number of spouts that shoot water up into the air.
4. Wall Fountain
These fountains come in all shapes and sizes, and can be placed indoors or outdoors. Some of the most popular options include freestanding or tabletop models, but they can also be mounted on walls or poles.
Whether you're looking for a classic design to add character to your yard or something more modern and chic, a wall water fountain is a great option.
5. Self-Contained Fountain
A self-contained fountain is a type of water fountain that does not use any external power source. They are usually operated by a water pump and can be placed outdoors or indoors. Self-contained water fountains are popular for their quiet operation and lack of maintenance requirements.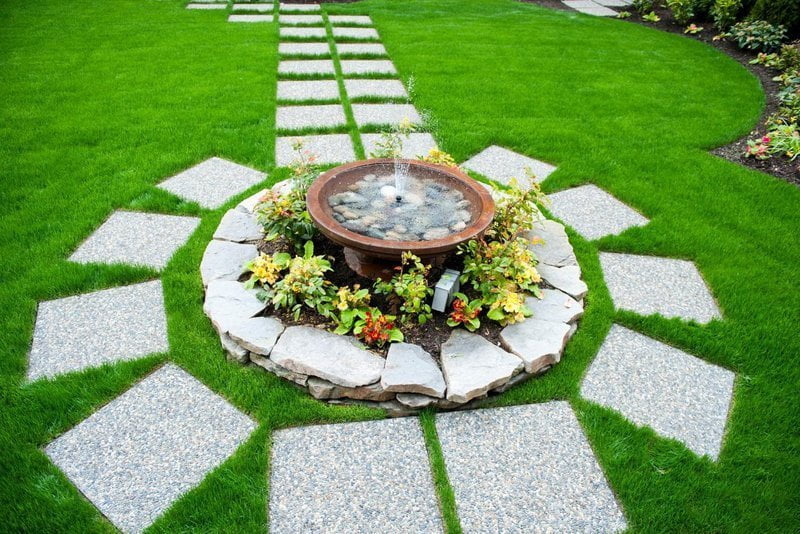 How To Care For Outdoor Water Fountains
Outdoor fountains are a popular addition to many yards and with good reason. They provide a lovely focal point for gardens and add beauty to landscapes.
However, like any garden feature, outdoor fountains need some care and attention in order to stay healthy and attractive. Here are some tips on how to take care of your fountain:
Regularly Clean The Water Basin
Use a bucket or hose to clean the water basin regularly. This will remove any dirt or debris that may have built up over time and help keep the fountain running smoothly.
Change the Water
Some fountains come with filters that allow you to change the water regularly without having to get down on your hands and knees.
If your fountain doesn't have a filter, consider replacing the water every six months or so. Old water can damage your fountain's structure or pump over time.
Check For Leaks
If you notice any leaks from the fountain's base or spout, take corrective action right away. Leaks can cause serious damage not just to your lawn but also to your faucet infrastructure as well.
Keep An Eye On The Temperature
In order to protect outdoor fountains from damage, many experts agree that they should be winterized. Some homeowners think that antifreeze or other de-icing products are safe for fountains, but they can cause damage to the fountain and be toxic to animals and humans. During winter, it is not recommended to run a fountain when the temperature is freezing.
Hire The Best Georgia Landscaping Company Today!
Who doesn't want an outdoor fountain in this busy technological era? We think it's the perfect way to add a calming and relaxing affect to our hectic lives. We at Glover Landscapes provide a complete range of services for installing a water fountain for your enjoyment. Contact our Georgia landscaping experts for a free estimate or call us at (404) 510-6437.